My Favorite Moments from Our iHeartRadio Music Awards
The iHeartRadio Music Awards were last night and they were AMAZING!!! There were so many amazing moments like from when Taylor Swift waved at our own Elvis Duran on the Red Carpet to Alicia Keys playing with her son, Egypt! Without further ado here are some of my favorite moments from last night.
Ariana Grande Performing Needy Live for the First Time!
Forget about the Grammys! Ariana was front and center for our iHeartRadio Music Awards and she slayed. She's getting ready for her Sweetener World Tour and after singing "Needy," I know that this tour is going to be amazing! She also won the prestigious Artist of the Year that was given out by her friend Pharrell. Check it out here.
Halsey's Amazing Speech
Who doesn't love Halsey?!? She was honored with the 2019 L'Oréal Paris Fangirls Award. In her acceptance speech, she talked about how fitting it is that the award was the "fangirl award." She said, "I think that the word fangirl for a long time has been used in a very derogatory since. I think if a young woman likes something then in the eyes of the rest of the world that makes it stupid or it makes it unimportant or invalid, but as a former fangirl and as a person who is lucky enough to have fans of their own, I know that it is very much the opposite actually."
Amen Halsey!!! She's soooo right. Check out the rest of her speech here.
Marshmello, Lovelytheband & Ella Mai Perform
iHeartRadio is where different genres of music can share the stage and last night was no different with three different musical acts coming together! Check out the performance here.
So what was your favorite moment of the night? Let me know!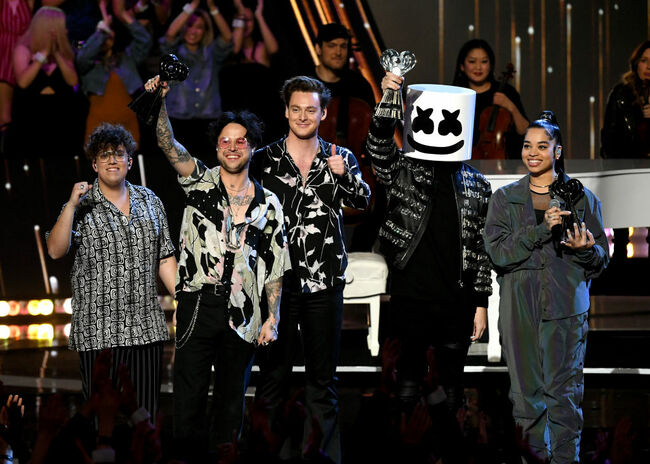 LOS ANGELES, CALIFORNIA - MARCH 14: (L-R) Sam Price, Mitchy Collins, and Jordan Greenwald of lovelytheband; Marshmello; and Ella Mai perform on stage at the 2019 iHeartRadio Music Awards which broadcasted live on FOX at the Microsoft Theater on March 14, 2019 in Los Angeles, California. (Photo by Kevin Winter/Getty Images for iHeartMedia)

Jared
Listen to Jared each weekday from 3pm - 7pm on Q102 Philly! Want to know more about Jared?
Read more